Tejas Borja SOLAR product range
Products that are perfectly integrated into
flat tile roofs from Tejas Borja "Flat" range.
Tiles or solar panels?
Although both solutions serve the same
purpose, there are clear differences between
installing non-integrated solar panels versus
solar tiles, such as the tiles in the Tejas Borja
SOLAR range.
The main advantage of solar tiles over panels is their perfect integration into the roof. The solar tiles barely affect the building design as they are installed together with ceramic tiles with a similar appearance. They also have a matt, full-black finish which makes them as unobtrusive as possible.
When non-integrated solar panels are installed, they are fixed above the roof's surface which makes them much more visible from any angle. Moreover, the installation of brackets to support solar panels tends to put the watertightness of the roof at risk as the fixings have to pass through the tiles and the roof support. By contrast, solar tiles are screwed directly to the roof battens, in the same way as any flat ceramic roof tiles would be attached.
Photovoltaic roof tiles capture solar energy and transform it into domestic electricity for immediate use. In this case, it is necessary to connect to the public electricity grid to complete energy use at times when power is not generated through the facility itself, such as at night.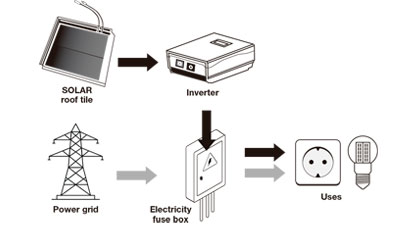 In this type of photovoltaic energy production installation, in addition to supplying energy for self-consumption, you can sell energy, the surplus that is not consumed into the transportation and distribution grid*.
*According to specific regulations of each country.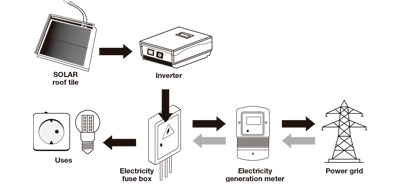 To maximize the self-consumption of energy produced by a photovoltaic installation made with solar tiles, there is the possibility of storing the surplus produced in batteries. In this way, your home or business will be self-sufficient only from the energy generated without depending on energy distribution companies.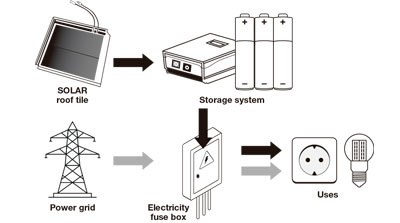 Subscribe to
our Newsletter