SOLAR FLAT-5XL
ceramic roof tile
MONOCRYSTALLINE
The SOLAR FLAT-5XL ceramic roof tile comes in two versions to adapt to each project's energy generation needs and available space.
SOLAR Flat-5XL ceramic roof tiles are the only large ceramic tiles with an integrated solar energy system. They are ideal for providing a reliable supply of solar energy. Thanks to the integration of the solar panel into the tile, the tiles provide all the benefits of a roof made from ceramic tiles in terms of watertightness, without any risk of deterioration or oxidation.
The perfect integration is completed with the installation of the roof or facade using FLAT-5XL tiles and other ceramic accessories.
For a 3 kW installation with a 3.000 W inverter, 124 SOLAR Flat-5XL MONOCRYSTALLINE tiles will be required. The optimum configuration features 4 strings in parallel with 31 tiles in each string. The power output of this configuration is 3,001 Wp, producing an annual energy output of 4.685 kWh.
STRING CONFIGURATION
31 // 31
+
31 // 31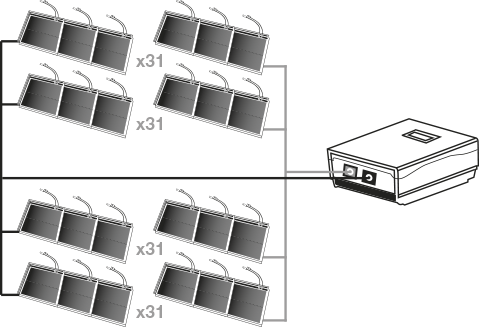 "All the photovoltaic panels that make up the final products included in the SOLAR range of Tejas Borja guarantee power generation for more than 25 years (with 80% efficiency of performance) and a 10-year guarantee of integrity of the photovoltaic cells.
Tile SOLAR FLAT-5XL: The support base SOLAR FLAT-5XL is manufactured as ceramic tile equivalent FLAT-5XL, with the same performance and quality. Therefore, this ceramic base has a 50-year warranty."